Montessori schools are already known for using alternative teaching methods to help children develop their skills and abilities. They use hands-on activities, games, and play instead of textbooks and memorization. It's also about introducing new concepts at unique times in the development of a child's mind that helps them to learn better. One of the things Montessoris need is a way for parents of students who attend their school to pay tuition fees and other associated costs online. When it comes to getting the best online payments solution for Montessori schools, there are several options available.
Advantages for Parents
Parents need to know that a good online payments solution for Montessori schools should provide them with several advantages. Here are some benefits parents will appreciate about using online payment options for tuition and other school fees.
1. More convenience
The role of parents in their children's education doesn't stop after the kids are accepted into a school or program. They will need to continue to assist throughout their time at Montessori schools, including providing the necessary funds every month—or whatever schedule is set up for tuition payments.
Parents who work in the corporate world and juggle busy schedules with other responsibilities can barely find time to grab lunch these days, let alone attend their kids' parent-teacher conferences and back-to-school nights. Unfortunately, this is usually unavoidable if they want to provide a brighter future for their children—and help them grow and develop as much as possible.
2. Safety and protection
Whether it's a Montessori preschool or elementary school, parents will feel more secure knowing their kids' school fees are paid using online payment solutions. The last thing they want to do is send money through the mail—especially during times when identity theft and fraud are on the rise.
Online payment services make it possible to pay fees from anywhere—even while at work or other places that may not have access to a computer or mobile device. This makes parents' lives much easier, and they won't have to worry about being late with tuition payments because of this.
3. Convenient payment options
There are several different types of online payments solutions available through Montessori schools. Some are debit card-based, while others allow parents to pay using credit cards or bank-issued checking accounts.
Parents will love knowing they have so many different payment options available to them when it comes to tuition and other school fees, including one-time payments. They won't have to worry about making all their payments in one lump sum each month, and this will help them manage their money better.
Current Payment Features of Our Platform
The SchoolCues online payments platform is already being used by Montessori schools around the country to simplify the process parents go through to pay tuition and fees. Here are some of the features that our Montessori schools are using and loving.
Easy Tuition Management: Parents can easily track their children's tuition payment due dates using our platform, and make payments directly through the portal. This will help them plan ahead of time each month to make sure they have the necessary funds available to avoid late fees and other penalties. Schools can set up their parents' accounts in a way that makes it possible for them to make any type of payment needed.
Multiple Payment Methods: Whether it's ACH, credit card, cash, or check, SchoolCues has the payment methods needed to get kids into Montessori schools. Parents will even be able to make payments automatically with the school by scheduling it in advance, and they won't have to worry about having enough money in their accounts for this.
QuickBooks Integration: Our secure platform allows Montessori schools to integrate with QuickBooks in just minutes!
One-Time, Recurring Payments, & Auto-Pay: Parents can choose the payment schedule that's right for them when they use our platform. They can pay their school fees every month, every quarter, or whenever they need to pay, according to your school. SchoolCues allows schools to set up one-time, recurring, and subscription payments in an easy, organized format. As mentioned previously, schools also leverage our auto-pay feature for automatic payments, making life easier for the parents.
Over and Under Payments: Over and under payments give Montessori schools the flexibility of making an overpayment or and underpayment, depending on their financial circumstances. Many of our schools' parents find this feature to be very useful and convenient!
Payment Reports and Tax Statements: SchoolCues has several reports available to its schools that allow them to see which parents have paid, what they paid for, and how much they've paid. This gives them a clear, in-depth picture of where they stand financially at all times. Schools also can email tax statements to parents at any time, making it easy to give them what they need promptly.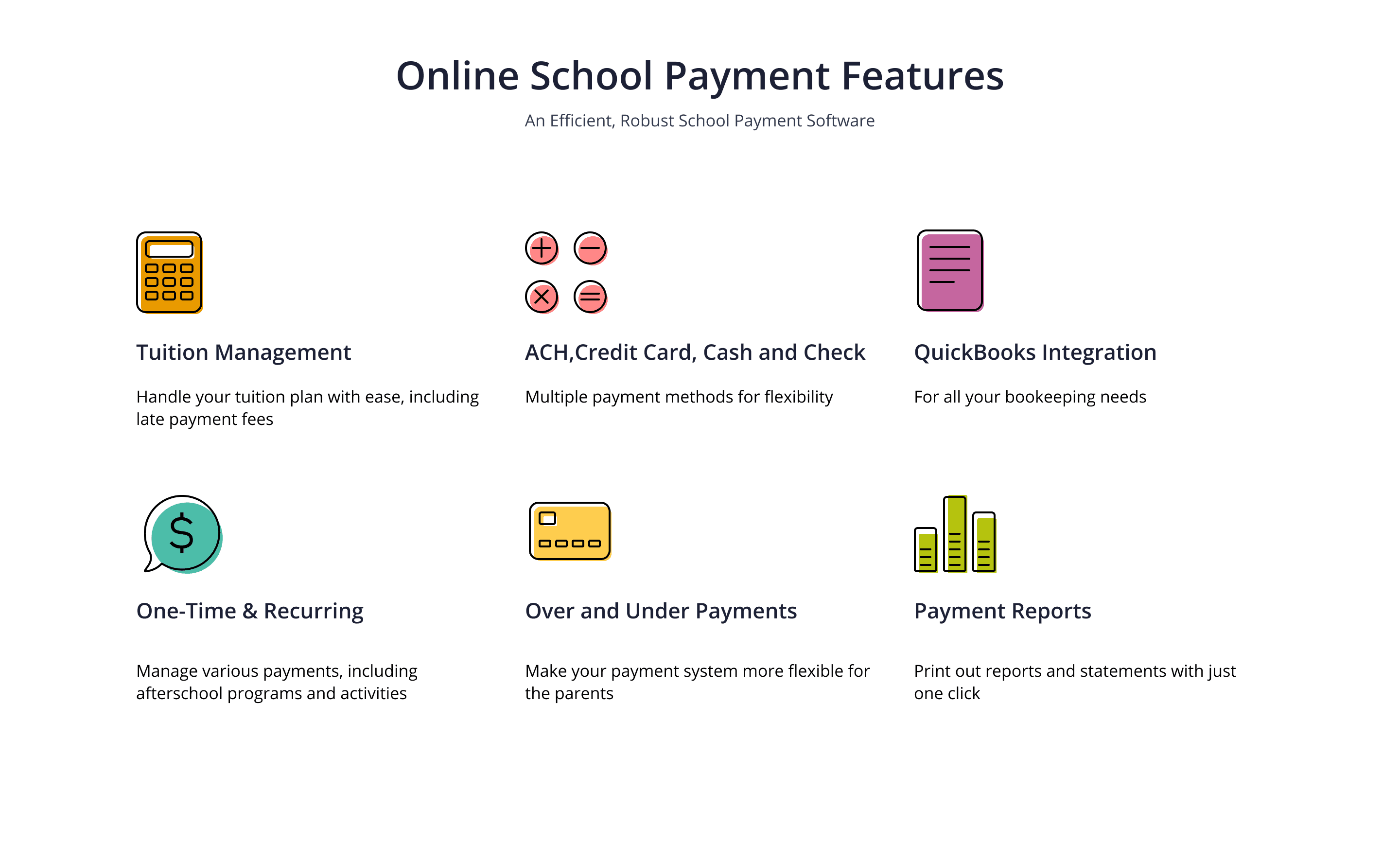 Enhancing our Montessori Payments Module – Upcoming Features
This year will be an exciting one for SchoolCues payments, as we get ready to release some new features to further simplify payments for Montessori schools. Some of these features include:
Mobile Payments: Parents will be able to pay using their mobile devices, which gives our Montessori schools another convenient way to accept payments.
Crypto Payments: As the global market for digital currency continues to rise, Montessori schools will be able to leverage our payment platform to accept these currencies.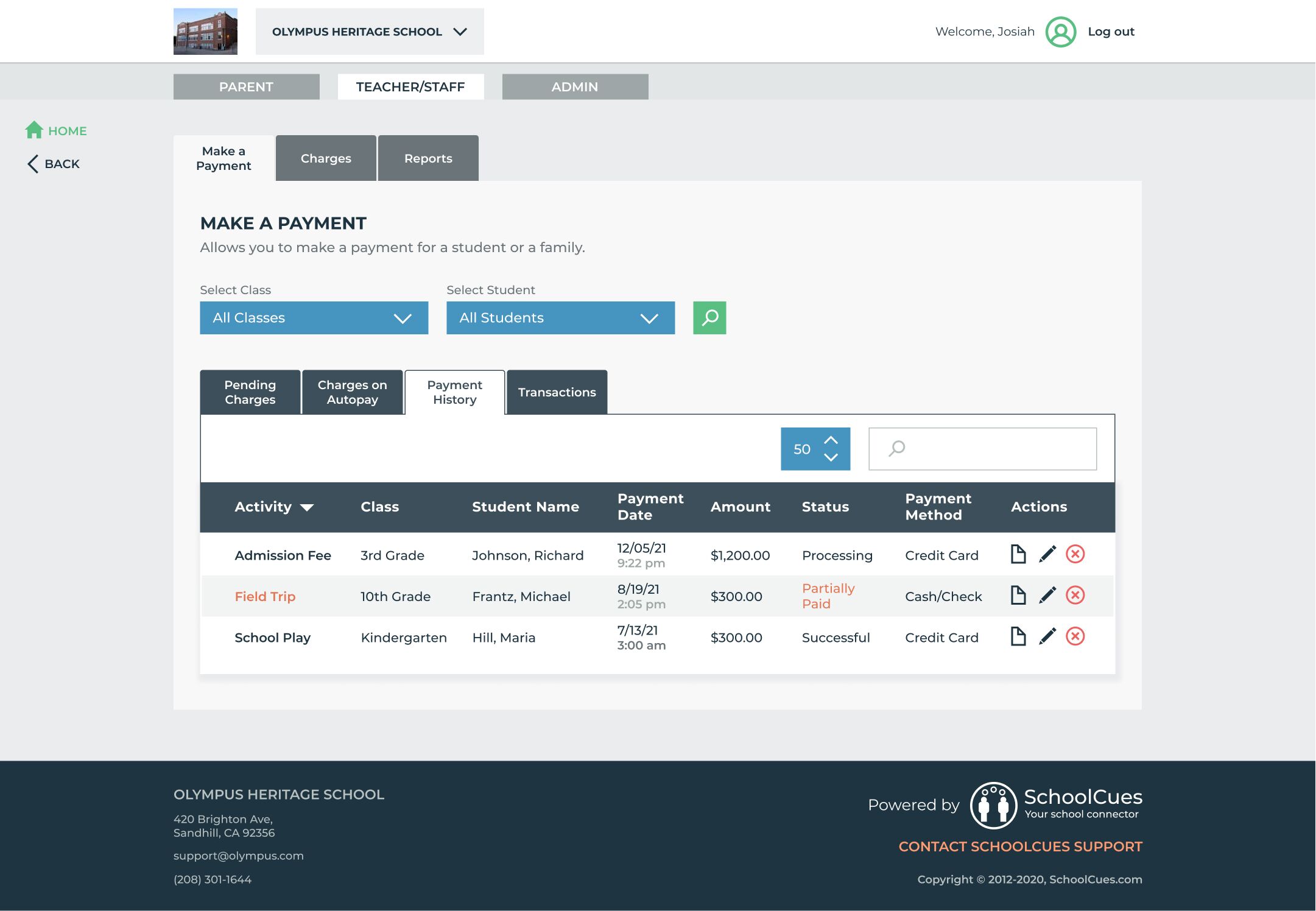 SchoolCues is an all-in-one school management system for small schools with limited budgets and resources. Our solutions include admissions and enrollment, online payments, student information system, gradebook, communications, parent engagement, donations and fundraising, alumni management, and more. Schedule a demo with us today.