Finding the right Tuition Payment Plan for Private School is always stressful. When it comes time to pay for private school or any educational institution's tuition, there are a few different payment options to choose from. Traditionally, school tuition is paid upfront through handwritten checks. With a rise in online private school payment software, parents and schools now have more options for online private school payments. You can either pay the entire tuition cost upfront, pay in installments, or use a tuition payment plan. Each method provides its own unique advantages and disadvantages which should be taken into consideration based on the families that attend your school.
Each of these payment options has its own advantages and disadvantages, so it is important to consider which option would be the best for your school's families.
Full Cost Up Front
The first option, and arguably the most popular, is to pay the entire tuition cost upfront. This allows families to quickly pay the cost of tuition for the entire school year, making it more manageable. It also allows families to take advantage of any discounts or scholarships that may be available.
Advantages
There are plenty of advantages to upfront payments, but one of the biggest is not having to worry about future payments. Once you pay, the full year has been covered with no hassle. This can be a real relief, especially if you're on a tight budget. It also eliminates the need to keep track of due dates and payments, so you can focus on more important things.
The second advantage of an upfront payment plan is discounts and scholarships. Some schools may offer special deals when they pay their tuition in full before the semester begins. In some cases, the discount may be as much as 10% compared to different private school payment plans.
Lastly, parents can sometimes avoid additional fees and interest when paying everything upfront to their school.
Disadvantages
Easily, the biggest issue with paying for private school tuition in full is cash flow. Private school tuition usually come at a high cost and parents can be burdened if they are not able to save up enough money beforehand.
Tuition Payment Plans
The second option is to go on an online payment plan. This option allows families to break the cost of tuition into smaller payments, making it more manageable. It also allows families to take advantage of any discounts or scholarships that may be available. However, installment payments can add up over time and may be difficult to afford for some families.
Advantages
There are a variety of different tuition payment plans that schools offer that can solve the issue of cash flow for parents when paying for private school tuition. Parents can usually divide the payments over a period of time without losing a big chunk of their income immediately. This allows parents to better manage their finances and not have to worry about making a large payment all at once.
One popular tuition payment plan is the 10-month plan. With this plan, parents pay 10 equal installments throughout the school year. This plan is great for parents who have a steady income and want to break up their tuition payments evenly. Another popular payment plan is the 12-month plan. This plan allows parents to pay their tuition in 12 monthly installments. This plan is great for parents who have a variable income or who want to pay their tuition over a longer period of time.
Some schools also offer a payment plan that allows parents to pay their tuition in full each semester. This plan is ideal for parents who have a lump sum of money available at the beginning and end of each semester. It is also a good option for parents who want to have more control over their budget since they are only making two large payments per year.
No matter what tuition payment plan you choose, it is important to make sure you are comfortable with the payments and that they fit into your budget. Talk to the school's admissions office about the different payment plans that are available and choose the one that is best for you
Disadvantages
Splitting up your tuition payments can be a great way to make them more manageable, but it's not always the best option. Here are a few things to consider before you decide:
First, installment payments can add up over time. This may be difficult to afford for some families in the long run. Private schools are essentially loaning you full tuition hoping you will eventually pay it back, so they may charge interest for insurance.
Second, if you split up your payments, you may be responsible for additional fees. For example, some schools charge a processing fee for each payment you make. They may also charge more interest compared to paying your tuition in full.
Third, if you miss a payment or are late, you may face penalties or even lose your place at the school. This can
Finally, remember that you're still responsible for the full tuition even if you split it up into payments. So, if you can't afford to pay the full amount, you may need to find other ways to raise the money; You can get a student loan or ask your school for other financial aid programs they may offer.
Overall, splitting up your tuition can be a good way to make payments more manageable, but it's important to weigh the pros and cons before you decide.
Which Payment Plan Options Are Right For You?
If you are able to save up and have enough to spare, it might be a good idea to pay the full tuition upfront. You can avoid any interest rates and it will ease your mind knowing that you don't have to another payment for a full year.
If you don't have enough to securely pay all at once, choosing an installment plan will be the way to go, but there are things you must consider. First, make sure you already have most of the tuition cost saved upfront. This can be a difficult thing to do, but it ensures that you will be able to afford monthly payments for the full year. Second, make sure you know the school's payment deadlines. Missing a payment can drop your student from the school or incur a late fee. Lastly, make sure you have the correct payment information. When making online payments, there is an option to do it automatically. Making sure the correct information is will avoid any confusion and missed payments. Knowing what payment methods you use is also crucial. Paying by credit card, debit card, or directly from your bank account may have different interest rates depending on the educational institution.
If you are having trouble saving up for your private school's tuition amount, contact your school administrator to discuss the idea of student loans or financial aid to help pay your tuition.
By doing your research and taking the time to plan ahead, you can make the process of paying for your private school a little less daunting. And, in the end, it will be worth it!
SchoolCues, Tuition Management System for Small Schools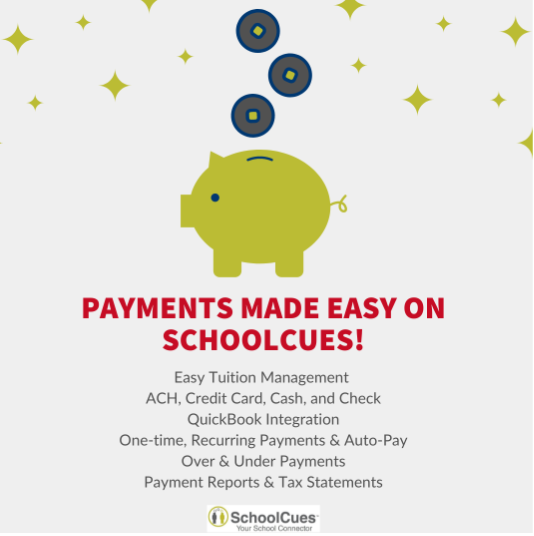 SchoolCues is an all-in-one student information system that covers all of your school's and parent's needs. Our school management software gives online access to any educational institution trying to find the best tuition management system. SchoolCues allows for incredible flexibility, allowing parents to pay either in full or through payment plans. SchoolCues can also let the parents decide for themselves which type of payment plan to use.
Secure Payment Processing
SchoolCues is committed to ensuring a safe and secure payment process for both the parent and private school. That's why we use Stripe, a leading online payment processor, to handle all of our transactions.
Stripe is a highly trusted and secure payment gateway that has been used by many of the world's leading companies. It is PCI compliant, meaning that it meets the highest security standards for protecting credit card information. And it is also very user-friendly, making it easy for parents to make payments and for schools to receive payments.
Our simple and secure payment process will make it easy for you to pay your child's private school tuition. And you can be confident that your payment information is safe and secure.
Payment Flexibility
SchoolCues allows for many different ways to pay for your child's tuition. It can be set up through installment plans or full payments all directly from the SchoolCues website. Based on student information, your school can also provide discounts and scholarships for families with multiple siblings or for those in need of financial aid. With SchoolCues, you can set up a variety of payment plans for families. This includes a monthly payment plan, semester plan, or full-year plan.
Intuitive Website
From the web, parents can easily get financial reports to see what needs to be paid and for which child. This is perfect for busy parents that want to quickly know how much they need to pay. And it is also perfect for the detailed oriented parent who wants to know everything that they are paying for. SchoolCues is also great for novice users by making it easy to navigate through our website.
Anytime Anywhere
With the SchoolCues app, parents can pay for their children's or any dependent's tuition from the web or their mobile device. No more waiting in line at the school office or writing checks! You can also use SchoolCues to keep track of your child's grades, schedules, and more.