SchoolCues Launches The First Ever COVID Screening App for Small Schools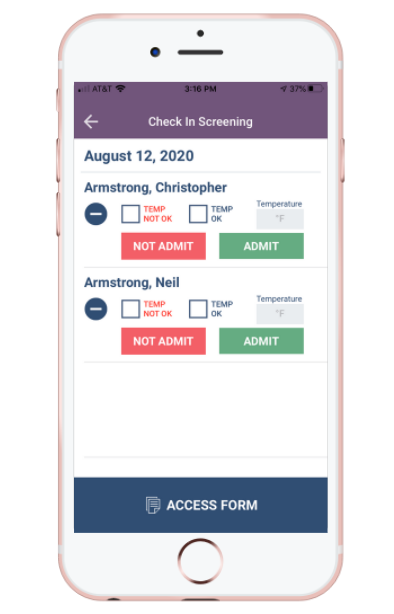 PHOENIX, AZ, 10/13/20 - SchoolCues (www.schoolcues.com), the leading low cost all-in-one school management system for small schools, has recently launched their much anticipated COVID screening app, the first of its kind for small schools, for both IOS and Android. Exclusively serving small schools with limited budgets for over 10 years now, SchoolCues has simplified and automated the screening process to screen entrants for any health symptoms before they enter the building.
The COVID screening app uses mobile QR code technology with an intelligent user interface for the parents, students and administrators to efficiently manage the check in and check out process. The user-friendly interface reduces the check in time by over 50% and significantly reduces the school's operations cost of managing paper intensive manual processes.
The touchless mobile COVID screening app is tailored towards small schools to help them create dynamic and customized check-in/check-out screening forms. These electronic forms are available for easy access on both the SchoolCues desktop and mobile app.
The SchoolCues COVID screening app comes with many powerful features
QR code scanning for tracking form submissions
Mobile temperature scans
Electronic signatures
Dynamic custom form creation in minutes
Custom forms for different audiences (ex. Kindergarten, Staff, Middle School, High School)
Tracking submissions on a real time basis
Comprehensive report management features to generate custom reports for submissions, non-submissions and aberrant response reports
Notifications and alerts to notify administrators on aberrant responses and non-submissions
These features help facilitate paperless pre-screening and touchless check-in, ensuring the safety of school personnel in small schools.
Upcoming Features
Integrate mobile QR Code check-in to track daily attendances
Mobile payments with check-in/check-out to help schools process cashless transactions
Mobile donations management and school fundraising
About SchoolCues
SchoolCues is the leading provider of low-cost All-in-One School Management Solutions for Small Schools. Our school administration software has been serving small schools for over 10 years, and we have helped Montessori, Private, Charter, Christian, Lutheran, Catholic, Independent, Islamic and Waldorf schools simplify and manage their small school administration with limited resources and budgets.
Paperless and online, our affordable school management system software offers several powerful modules including Online Admissions and Enrollment, Online Payment Solutions, Student Information System, Electronic Gradebook, School Communications, COVID Screening for Schools, Unlimited Text Messaging, Parent Engagement and more!
SchoolCues is headquartered in Phoenix, AZ with offices in Irvine, CA.

Copyright 2023-2024. All Rights Reserved.