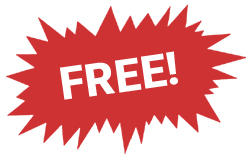 Online school payment solution and tuition management simplified for small schools
School payments simplified with our intelligent school tuition and miscelleanous payments solution
Online School Payment Features
An Efficient, Robust School Payment Software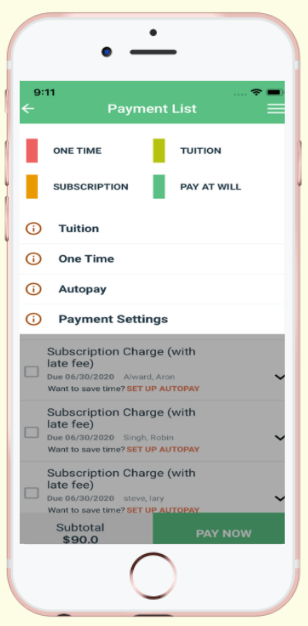 Easy Tuition Management
Handle your tuition plan with ease, including late payment fees

ACH, Credit card, Cash and Check
Multiple payment methods for flexibility

QuickBooks integration
For all your bookkeeping needs

One-Time, Recurring Payments, & Auto-Pay
Manage various payments, including afterschool programs and activities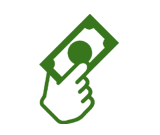 Over and Under Payments
Make your payment system more flexible for the parents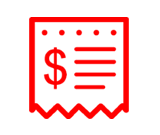 Payment Reports and Tax Statements
Print out reports and statements with just one click!
The School Payments Challenge for Parents
School administrators often face the daily problem of communicating with parents regarding their billing payments situation. Small unpaid fees begin to build up and parents are often too busy to even notice their son or daughter is costing them a fortune in field trip and cafeteria fees. Gone are the days of unwatched lunch accounts and checks quickly written before your kid runs out the door. With so many disorganized fees it can be hard to keep track of the really important stuff, like a pending tuition payment, a field trip due or an empty school lunch account.
Parents often feel these fees can be overwhelming when they are signing stacks of forms at the beginning of the semester, or need to be constantly reminded about dues or late payments.
Making school payments online with a high-quality school payment software helps parents better organize and meet fee deadlines.
The School Payment Solution That Increases Parental Engagement
Parents and teachers can both benefit from our online payment solutions for schools which keep track of tuition, activity fees, registration fees, transportation fees, and other miscellaneous fees throughout the school year. SchoolCues offers parents multiple payment options to create their own individual payment plan for the year. Using the SchoolCues online billing system, schools can set up different categories to pay tuition, event, donation, and activity fees on their own customized payment frequency. No need to pull out the old calculator to crunch numbers or dig out a checkbook you haven't used in months. The SchoolCues easy to use interface helps manage your daily and monthly billing statements and tuition dues online and is easy to use.
SchoolCues payments are linked to the student account showing real-time balances and invoices and eliminating the need for parents to call or visit your school in search of information.
Our convenient school tuition management software and miscellaneous payments solution ensures your students never miss a beat because of missed payments, whether it's for tuition or enrollment or a field trip or a pizza lunch or a school play. We do it all.
Simply create a SchoolCues account with your school to get started today.
Benefits of Our School Billing Software
The intelligent payment solution from SchoolCues comes with several valuable features and benefits which help schools process and manage payments more efficiently.
Benefits include
Setting up different payment types
One time & recurring payments
Tuition, Enrollment & Miscellaneous payments
Cash, Check, ACH & Credit card payments
Include charge types and back end payments
Create account codes for book-keeping
Manage refunds, over & under payments
Apply sibling & family discounts
Assign payments / reminders at different levels
Integrate to QuickBooks
Generate payment reports and tax statements
Additional Links
Why Choose SchoolCues?
Parents and small schools need a one-stop school management system with an integrated online payment and billing system to help manage school payments. A simple, effective and low-cost method to handle payments will allow schools to better educate young minds.
SchoolCues is the premier billing management software for small schools, with smart tuition and miscellaneous school payment solutions for Montessori schools, Independent schools, Christian schools, Charter schools, and more – that is effective in engaging parents.
About SchoolCues
SchoolCues is an all in one school management system which offers a simple and powerful paperless school payment solution with integrated Sign Ups and RSVPs, Parent Conference Scheduler, school communications and student information system that allows schools to manage student data and records and easily produce different reports in just a few seconds.
For more information to integrate this intelligent online school payment system and increase parental engagement by simplifying your school payments, visit the SchoolCues website at www.schoolcues.com

Copyright 2020-2021. All Rights Reserved.